Glass Recycling
While it's true that you can't glass in your green curbside recycling bin, you can separate the glass from the rest of your recyclables and take the material to any of the 8 glass recycling drop-off locations around the city.
In order to expand the accessibility and convenience of glass recycling, Keep Omaha Beautiful has assisted the City of Omaha in securing three new locations for glass recycling.
All glass recycling locations now have purple Ripple Glass bins in their parking lots.
Thank you to the Nebraska Environmental Trust, the Nebraska Recycling Council, and the Nebraska Department of Environment and Energy for supporting this initiative!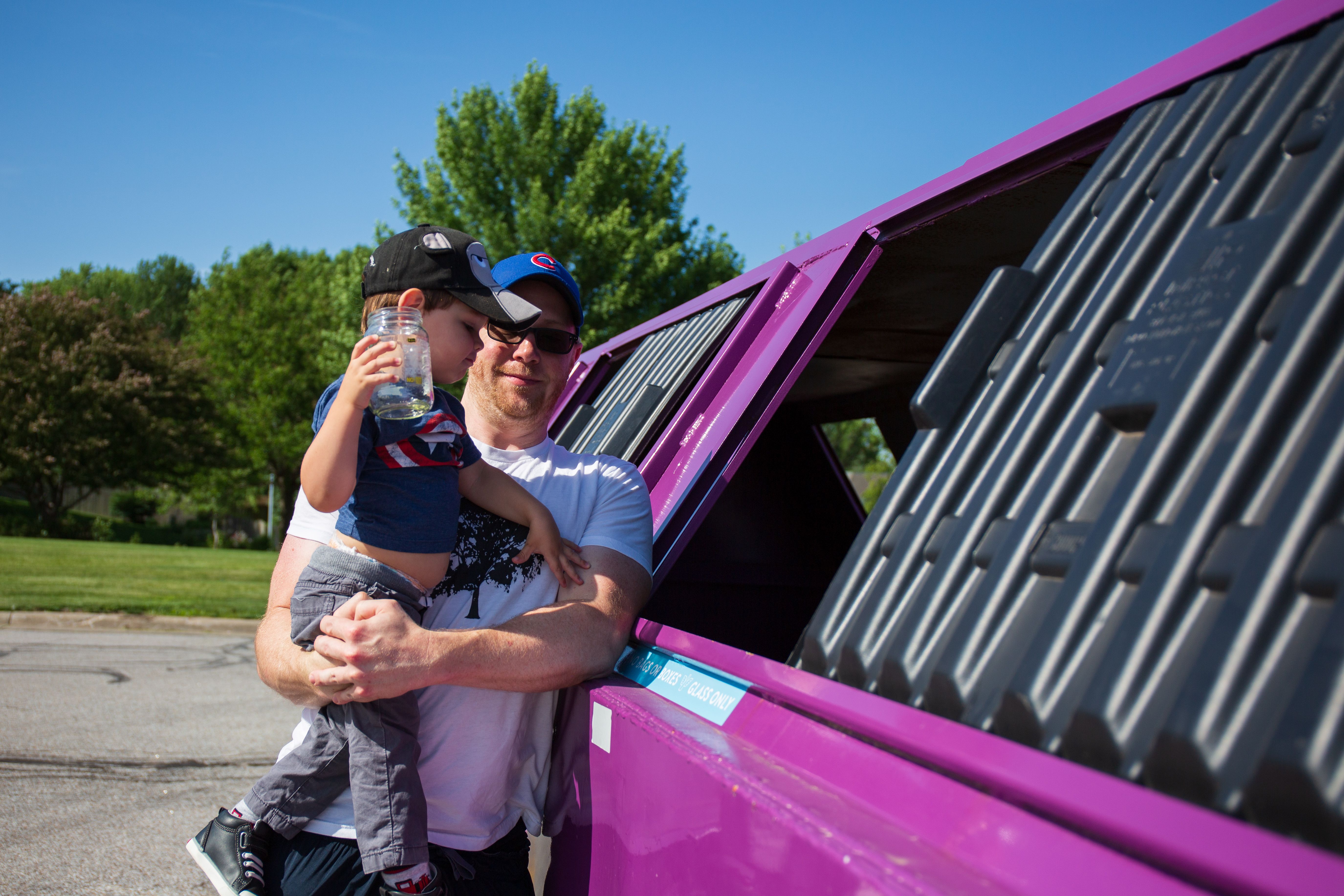 Frequently Asked Questions
Where can I take my glass for recycling?
There are 8 glass recycling drop off sites in Omaha. Visit Wasteline.org to find a location nearest you.
What type of glass can be recycled?
Any glass bottles or jars used to package food or beverages. They can be any color glass. Think pickle jars, beer/wine bottles, and candle jars.
 
The labels do not need to be removed. However, people are encouraged to remove the caps and quickly rinse out the items.
 
Any bags, boxes, or bins that are used to transport the glass should not be placed in the purple collection containers.
 
Items that are NOT accepted: no dishware, pyrex, corning ware, mirrors, light bulbs, or ceramics.
 
Why can't glass be placed in the green bins with other recyclables as part of the City's curbside recycling program?
When glass is placed in a recycling compacter truck, it breaks and unfortunately contaminates other valuable recyclables, such as paper and cardboard. Consequently, it needs to be collected separately in order to be recycled.
 
Broken glass is also a safety issue for Firstar Fiber's sorting staff who are manually sorting materials at the recycling facility.
How is the City's glass recycling program being expanded?
KOB received grants from the Nebraska Recycling Council and the Nebraska Department of Environmental Quality to purchase new collection containers for glass and help expand the program.

These new collection sites are located in the parking lots of Hy-Vee at 178th & Pacific, Mulhall's at 120th & Maple, and Bakers at 120th & Center.

In total, there are now 8 different drop-off sites spread throughout the City where residents can drop off glass for recycling.