Program Overview
Trees for Omaha is a partnership between Keep Omaha Beautiful, the City's Parks & Recreation Department, and the Nebraska Forest Service. The program was developed in response to the invasive Emerald Ash Borer (EAB) beetle, which was officially discovered in Omaha in June 2016 and will decimate our community's ash trees over the next seven to ten years (nearly 15% of the city's trees).
The goal is to plant several thousand native trees in Omaha parks and right-of way (ROW) spaces in order to counteract the negative impact of EAB and achieve all of the environmental, economic, social, and public health benefits associated with healthy and mature trees. The program was officially launched on Arbor Day 2018 (April 27th) at Pulaski Park in southeast Omaha. Over the next two to three years, tree planting projects will rotate around the city to areas most in need.
The program's priority is to ensure that these trees reach full maturity and can be enjoyed by generations of Omaha residents. We are working with a diverse stock of native trees to improve the resilience of the city's tree canopy and withstand future invasive pests. We are also employing innovative and research-based best practices in growing, planting, and maintaining the trees. This helps increase the growth and survival rate of trees planted in urban areas, thus allowing our community and local environment to reap all of the benefits of healthy, mature trees.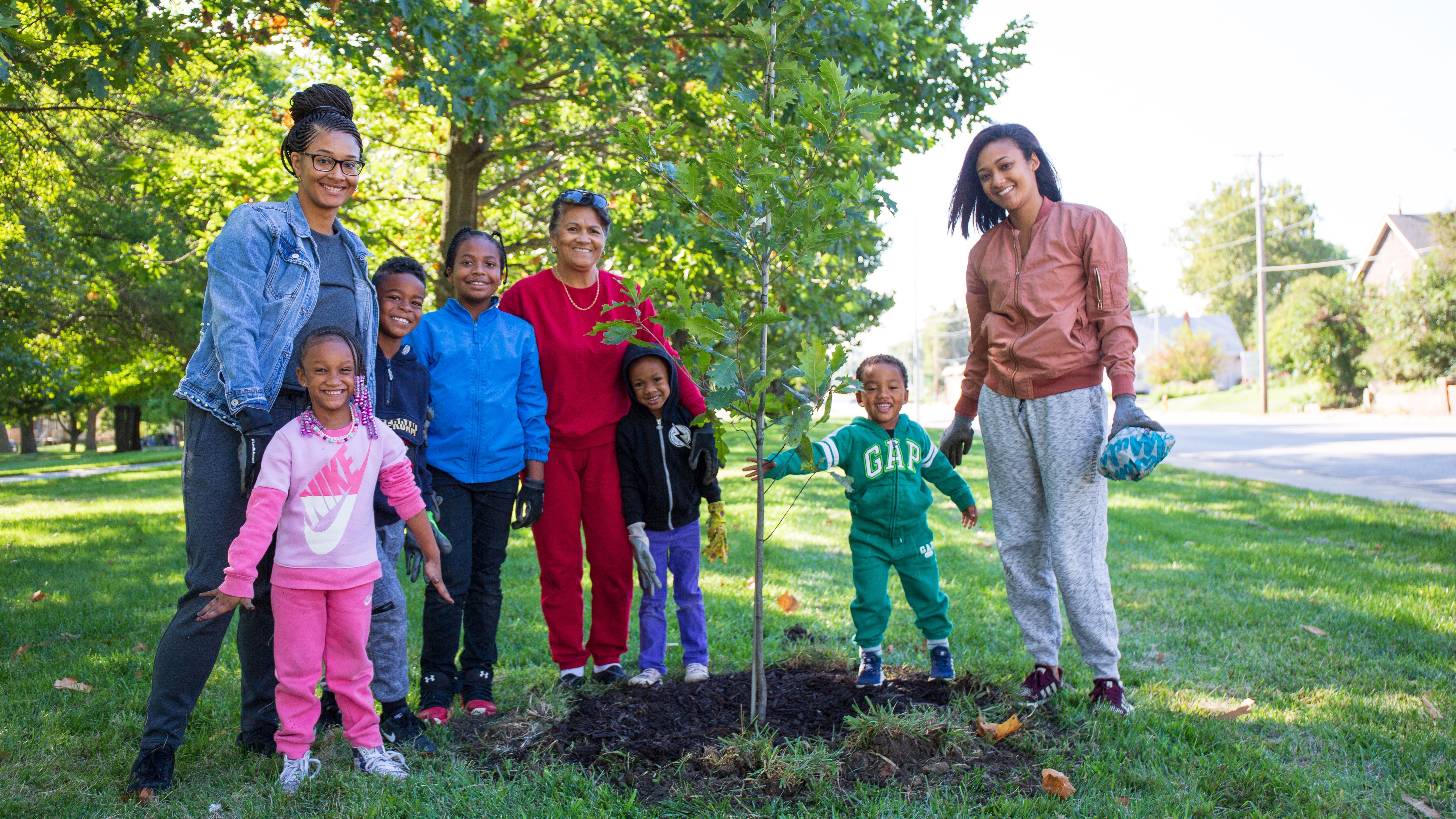 Support Our Efforts
Up to this point, Keep Omaha Beautiful has raised $750,000 from the community to help fund the program. This includes $500,000 from a private donor, $150,000 from the Nebraska Environmental Trust, and $100,000 collectively from the Arbor Day Foundation, FedEx, Giger Foundation, Hy-Vee, International Paper, Metropolitan Utilities District, Lozier Foundation, Papio-Missouri River Natural Resources District, Peter Kiewit Foundation, Omaha Suburban Rotary, Tyson, and individuals throughout the community.
Please consider donating to this program to help us plant more trees. Donations of any amount help.
Given the scale of our program, most of the plantings are completed by a contractor; however, we also conduct periodic volunteer-based tree plantings each spring and fall. If you are interested in helping plant, please complete the interest form.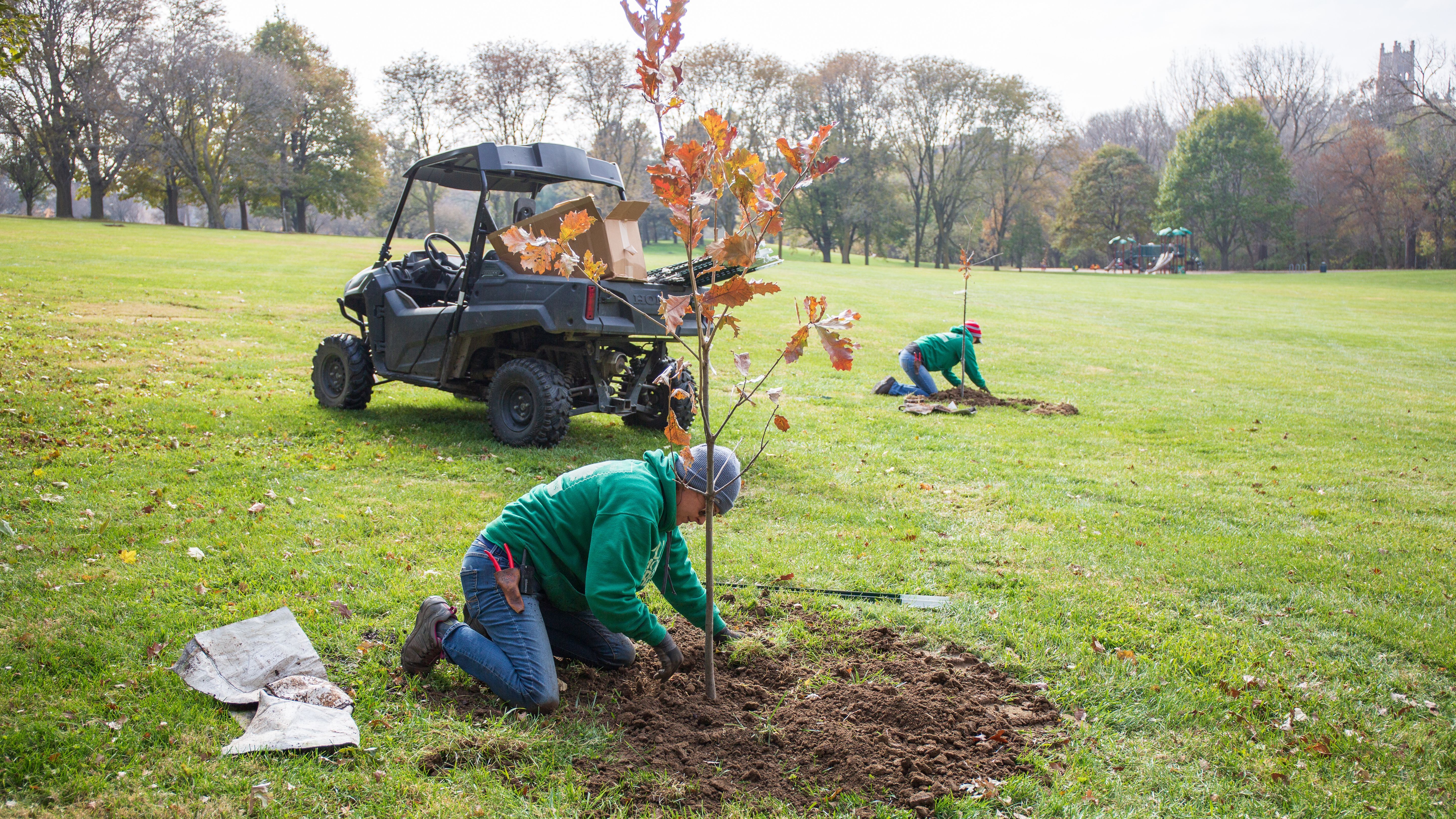 Additional Details
Below are some additional details about the Trees for Omaha program:
Program Roles
Keep Omaha Beautiful (KOB) is serving as the program administrator and oversees contracts with tree growers/installers and the coordination of volunteers. The City's Parks & Recreation (P&R) Department is helping identify the public spaces that are in the most need of replacement trees and also designing the planting projects. The Nebraska Forest Service (NFS) helped determine the list of native trees for the program and draft specifications noting best practices. NFS is also assisting with quality assurance and reviews all tree stock and plantings.
Vendors + Volunteers
Trees are primarily sourced from local nurseries and planted by local landscaping companies. Volunteers will also help us periodically plant trees.
Native Trees
We worked with NFS to develop a diverse list of native trees that are appropriate for our region and likely to thrive in parks and ROW areas. Planting a diverse set of native trees will make our community trees more resilient moving forward.
Best Practices
Unlike some conventional approaches that are common in the local market, the program requires best practices regarding how trees are sourced, grown, planted, and maintained. All of the trees are produced using a grow-bag production method and are planted when they are relatively small in size, roughly 1 inch to 1.5 inch in caliper (diameter) and about six feet high (depending on tree species).
Mulch
Mulch for the tree plantings comes from removed ash trees.
Planting Seasons
Planting will occur during the optimal spring and fall seasons (March – May & September – November).
Engaging Stakeholders & Education
We will engage neighborhood associations as part of this process as well as educate residents and school youth about the effects of EAB and how to maintain healthy trees. Service-learning opportunities that involve planting trees will also be made available.
Program Benefits & GIS Mapping
All program trees will be mapped on the City's Geographic Information System, and we will tally the benefits of the trees using i-Tree software. There are a wide range of benefits connected to strategically and effectively planting trees, including (but not limited to) improved air quality, increased property values, enhanced community perceptions and well-being, improved stormwater management, reductions in greenhouse gasses, and enhanced habitat and biodiversity.
Shared Resources
The program specifications, tree list, bid documents, contracts, and lessons learned will be shared with other Nebraska communities that will need to address EAB as it spreads throughout the state.
For more information about EAB, visit Nebraska's EAB Resource Center (developed by the Nebraska Forest Service). Please also see our "Frequently Ask Questions" section below.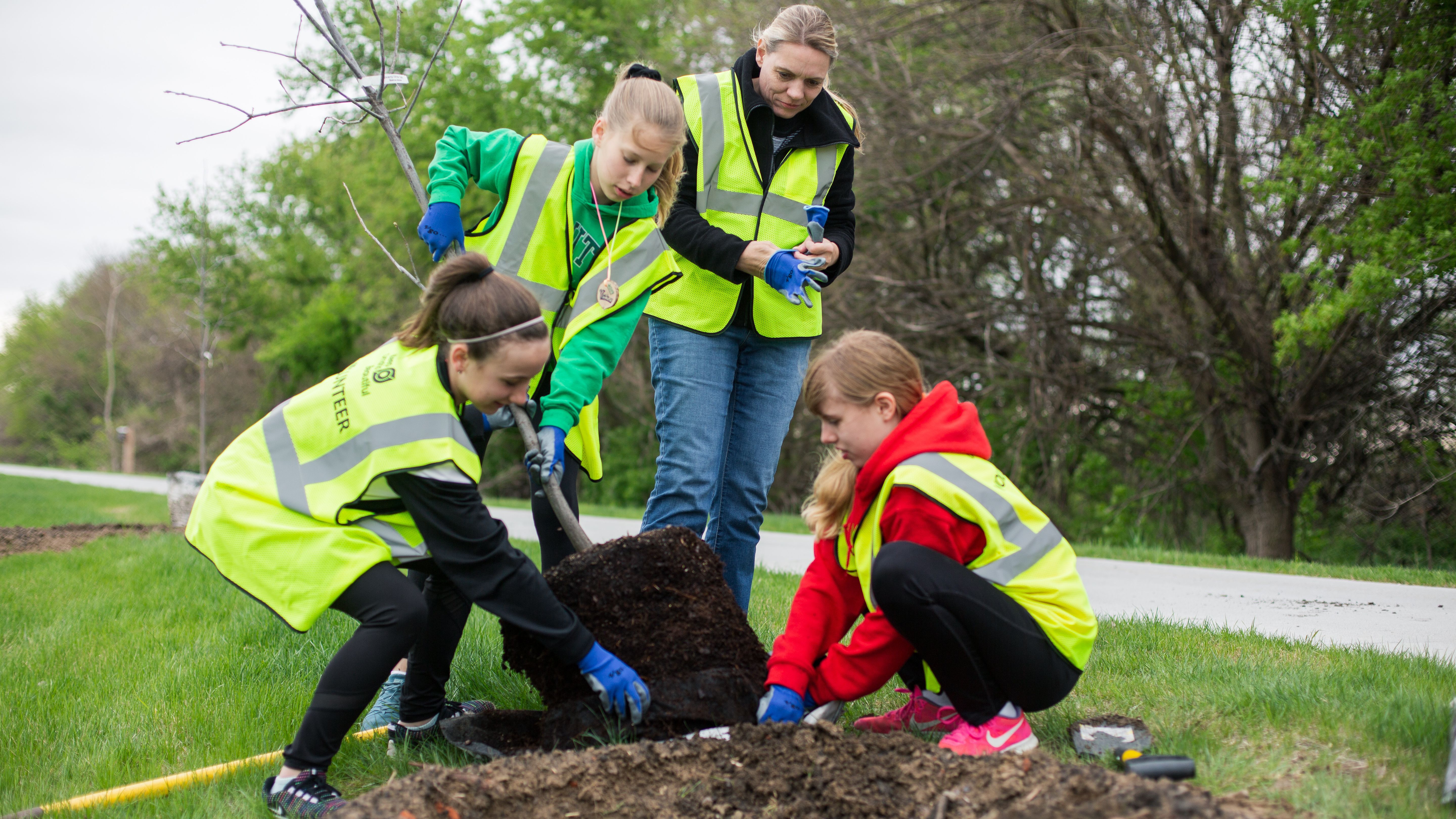 Frequently Asked Questions
Does the program plant trees on residential property? 
No. Unfortunately, at this time, the program is only focusing on public property (Omaha parks and right-of-way areas).
Does the program entail removing ash trees?
No. This program only plants trees. However, the City of Omaha is continuing to proactively remove ash trees on public property for public safety reasons. Click here to learn more about the Parks & Recreation Department's efforts to protect citizens by removing ash trees.
How can I sign up to help plant trees as part of this program?
We will conduct volunteer-based tree plantings starting in the fall of 2018. If you would like to sign up to help plant trees, please contact Keep Omaha Beautiful by emailing HelloKOB@cityofomaha.org or calling 402.444.7774.
Which types of native trees are you planting as part of this program?
We developed the list of native trees for the program with assistance from the Nebraska Forest Service. The trees include: American Linden, Black Gum, Black Locust, Black Oak, Black Walnut, Bur Oak, Chinkapin Oak, Coffeetree, Hackberry, Honeylocust, Northern Catalpa, Northern Pecan, Princenton American Elm, Red Oak, Shingle Oak, Shumard Oak, Swamp White Oak, Sycamore, Triumph Elm, and White Oak.
Does the program entail maintaining the trees once they are planted?
Yes. Part of the contract with a given landscaper is to water and maintain the planted trees for one full year. After this, the Parks & Recreation Department will maintain the trees.
What type of tree should I plant in my yard to replace an ash tree?
The Nebraska EAB Resource Center (developed by the Nebraska Forest Service) is a great resource. It provides recommendations on the types of trees and what to keep in mind when planting a tree on your personal property.
Where can I purchase "grow-bag" produced trees like the ones used in this program?
There are various tree nurseries throughout the country that produce grow-bag trees.  Three local growers are Faller Landscape, Great Plains Nursery, and Papio-Valley Nursery. By providing this list, please note that KOB, the City of Omaha, and NFS do not officially endorse these companies.
How can I tell if the tree in my yard is an ash tree?
The Nebraska EAB Resource Center provides resources that can help you confirm whether your tree is an ash tree.
Who should I work with to remove an ash tree on my property or treat it?
You are strongly encouraged to only use a certified and licensed arborist to remove or treat an ash tree on your property. The City of Omaha provides a list of licensed arborists. On the EAB Resource Center, the Nebraska Forest Service also provides resource guides on how to select an arborist and how to determine whether to remove or treat an ash tree.