RESOURCES FOR NEIGHBORHOOD LEADERS
Welcome to the Omaha Cleanup Resource page for neighborhood leaders and site coordinators.
On this page, you will find a variety of resources to help make your Cleanup event successful.
Download resources like logos, social media graphics, and fliers from the Marketing Toolkit.
 
See information on yard sign pick-up.
 
Find answers to "Frequently Asked Questions" and submit your own question to the City of Omaha's Cleanup Coordinator.
---
General Event Resources
Click on the videos below to view information on the following topics:
---
Coordinator Guides
Information covered in the resources above can also be found in these downloadable/printable Coordinator Guides. Click the links below to view and download.
---
Marketing Toolkit
Access the Marketing Toolkit to view and download resources like logos, social media graphics, and fliers by clicking the button below.
---
Yard Sign/Sticker Pick-Up
Each neighborhood association has the opportunity to utilize free yard signs. Neighborhood associations can check out up to 10 signs. All yard signs will be available to pick up at the KOB office, 1819 Farnam Street, Suite 306.
Click here to schedule an appointment to pick up your signs, or contact us at 402-444-7774 and hellokob@cityofomaha.org.
If you still have your used yard signs from last year, KOB has white, waterproof stickers you can use to cover up past writing and reuse the signs this year. Stickers can be picked up at the KOB office. Plan to hold onto your signs and re-use them for next year or return them to your City Inspector following your cleanup event so they can be cleaned off and reused in upcoming years.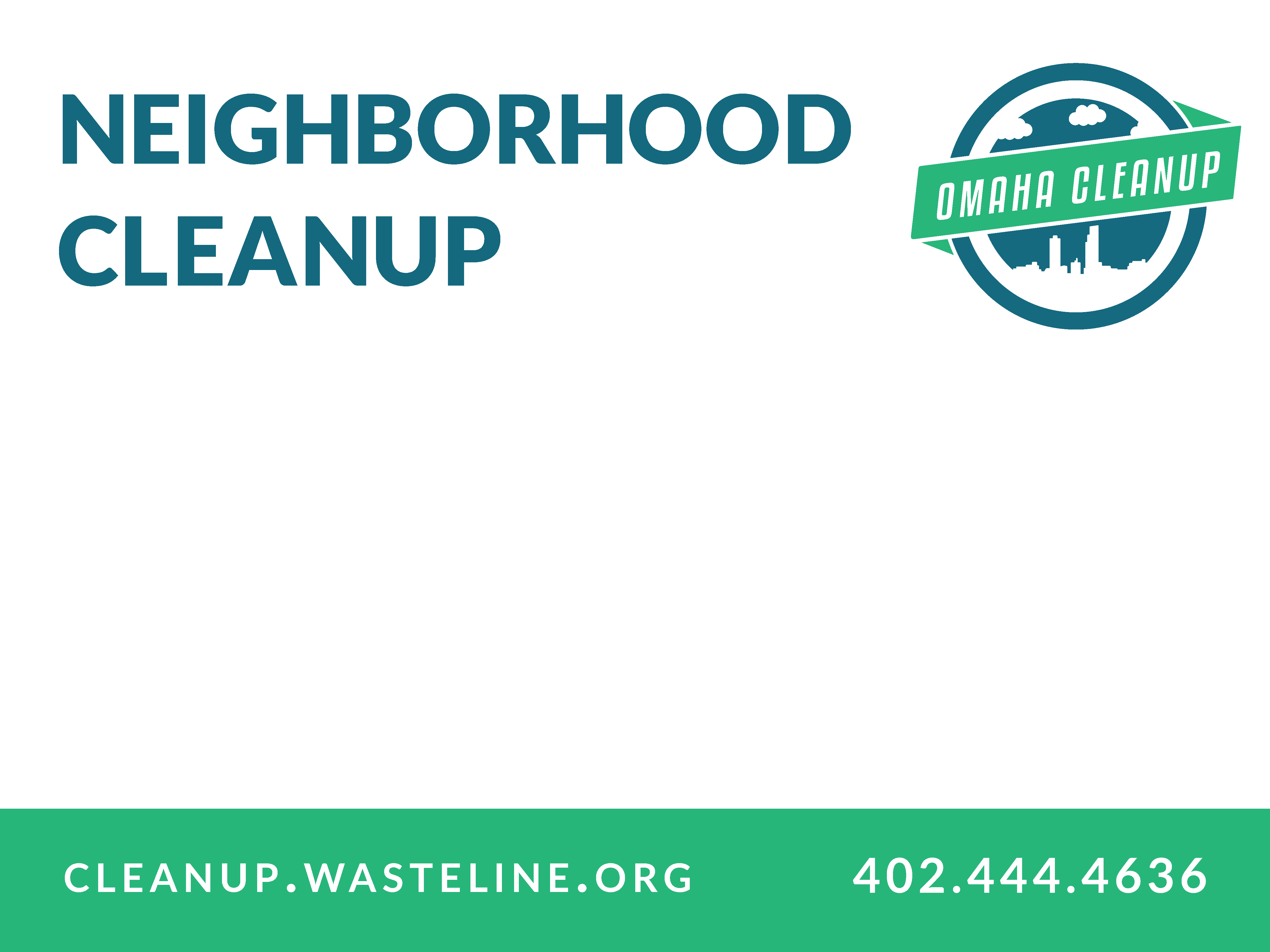 ---
Mayor's Letter of Gratitude
The City is proud to partner with Keep Omaha Beautiful for the 2022 Spring Cleanup.
One of the things that makes Omaha unique is our network of neighborhood associations and alliances working throughout our city. The partnerships we have with your organizations are very important.  We all want our city to be clean and safe.  Strong neighborhoods make strong cities.
Every year, dozens of neighborhood associations participate in the Spring Cleanup. Our citizens are involved and proud of our city.
Thanks to your hard work, in 2021 we collected more than 1,000 tons of tires, old appliances, and general debris and waste at the Spring Cleanup sites. 
Thank you to Keep Omaha Beautiful and the City of Omaha Public Works Department for coordinating the cleanup. It takes a team, and we are proud to be part of the team!
- Mayor Jean Stothert 
---
Frequently Asked Questions
Where can I get yard signs?

Where can I find the map of locations for each weekend?

View a map of locations for each Omaha Fall Cleanup Saturday on the City's Wasteline website at this link.

How will yardwaste be collected on OSC Saturdays?

Yardwaste such as small tree limbs (up to 4 inches in diameter), brush, grass clippings, and leaves will be accepted at the special yardwaste only collection site at the City of Omaha Sewer Maintenance parking lot - 6880 Q St. each OFC Saturday from 9:00 a.m. - 2:00 p.m.

Residents can also hold onto their yardwaste and participate in the City's unlimited curbside collection, which runs October 24th - . Material collected during this time will be sent to Oma-Gro to be composted.
Submit a Question
Submit a question below to the City of Omaha's Cleanup Coordinator, Nick Chapman.