Look and listen for the fascinating ways urban nature wakes up in the springtime.

You will learn about the ways that nature in your neighborhood is growing, blooming, chirping, and waking up in the springtime.
You will also study the phenology of the plants you see. 
Phenology is the study of the timing of biological events in plants and animals - such as buds bursting open or sprouts growing from bulbs. You don't have to know a lot about phenology to do this activity, but if you want to learn more, check out this website. 

Scissors or hand pruning shears
Knife (optional)
Energy and enthusiasm

Take a walk around your neighborhood.
 
Observe tiny green plants as they start to sprout. 

Dandelions are starting to grow. Most people consider dandelions weeds and don't think they have much value. To a bee or butterfly, early dandelions are an important source of food in early spring!

Look for sprouting leaves and flowers from bulbs such as daffodils, tulips, and hyacinths. How do they look similar? How do they look different? Even if you cannot identify them early on, can you see differences between different kinds of flower buds?

Watch buds on shrubs and trees as they begin to burst and flower/leaf out.

Although it sounds complicated, studying phenology is as easy as making regular observations of these buds!

Listen for sounds of spring.

Do you hear any birds? Even if you can't identify them, how many different types of bird calls can you hear?
Do you hear other sounds? Insects? Frogs?
 

Do a bud dissection.

By the time leaves fall off the trees in the autumn, buds already have formed with the parts in them for spring growth.
Since woody plants are dormant during the winter, it is important that they have what they need stored up to begin growing in the spring. 
In the spring the buds swell and grow as the days become warmer and the sap moves through the plant.
Select a tree or shrub in your yard. Observe the buds.
 
Use scissors or hand pruning shears to cut one small twig from the tree/shrub. Make sure the tree/shrub looks healthy and has lots of buds - you don't want to remove all the buds, but cutting one is not likely to hurt the tree/shrub very much.
 
Gently pull the bud apart or use a knife to carefully cut the bud in half.
 
Observe the pieces of the bud. You should see tiny leaves or flower parts.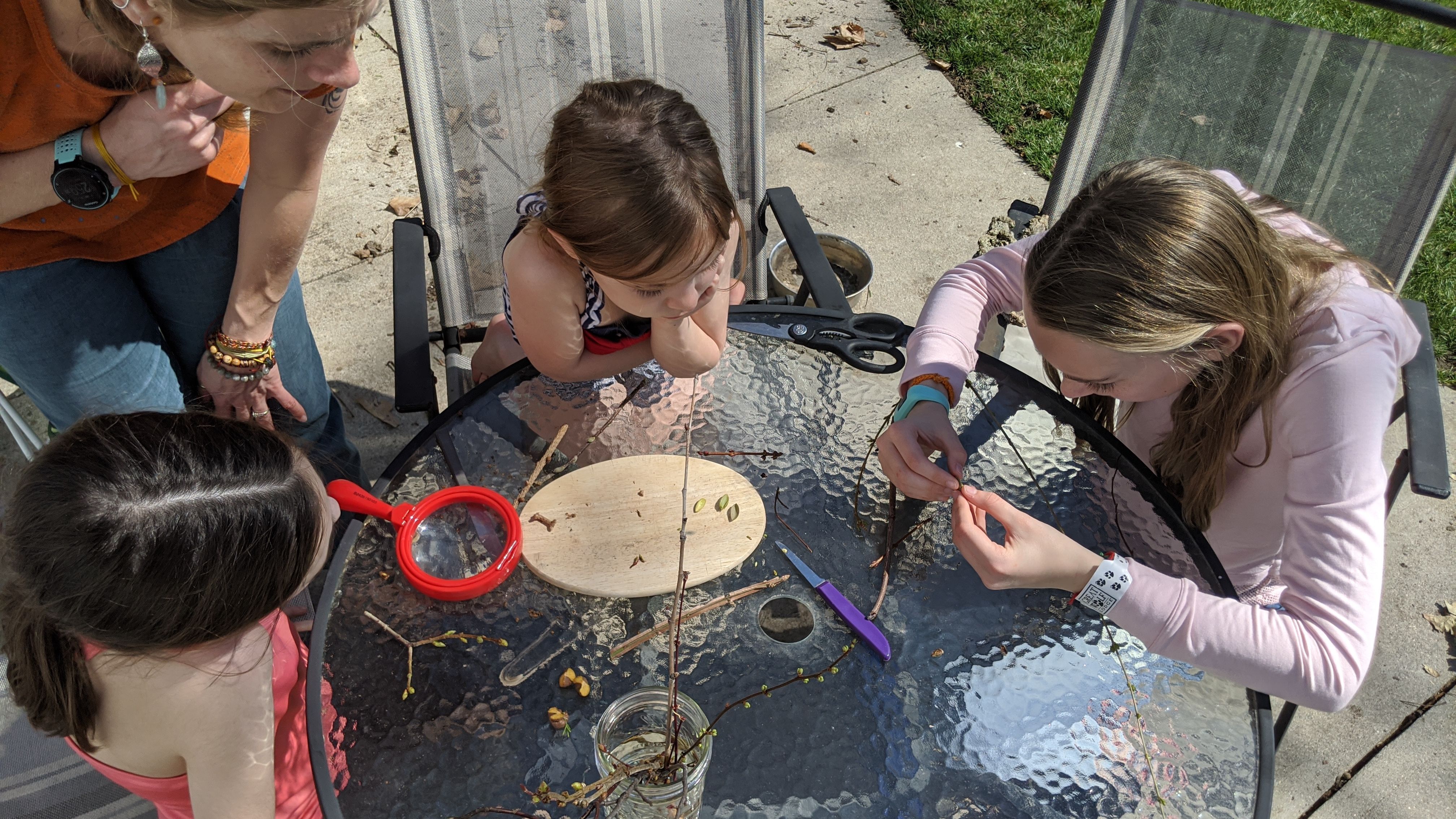 Asking guiding questions helps your kids observe the spring changes that are happening. Pose questions like:
Do all the buds on the tree twigs look the same?
Do the buds on different trees open at the same time? 
Can you see any signs of leaves or flowers bursting out of the tree buds?
Looking at flowers beginning to grow, which part of the flower grows first?  
Take a few minutes to watch the birds you see. What are they doing?

Try walking around your neighborhood at different times of day. Do you hear different sounds in the morning then at noon? What about at dusk?
 
Select a tree or shrub to observe this spring. Look closely at the buds. Check it out every day or two and see how the buds pop! Try taking a photo of your bud each time you observe it to document the changes. Check out this cool video of a tree bud bursting and this video that explains how trees know when it is time to bloom in the spring.
 
Add a math activity - use a ruler with millimeters to measure the length and width of buds each day for a week or two. Tie a piece of yarn or string around a couple of buds and record the measurements for those buds each day. How do they change? What is the average size bud on the tree? How does this compare to the size of a bud on another tree of a different species?
 
Participate in citizen science activities through Project Budburst. It's easy and a great way to keep kids of all ages engaged in learning while they are out of school.
 
Learn how to identify the birds you saw and heard.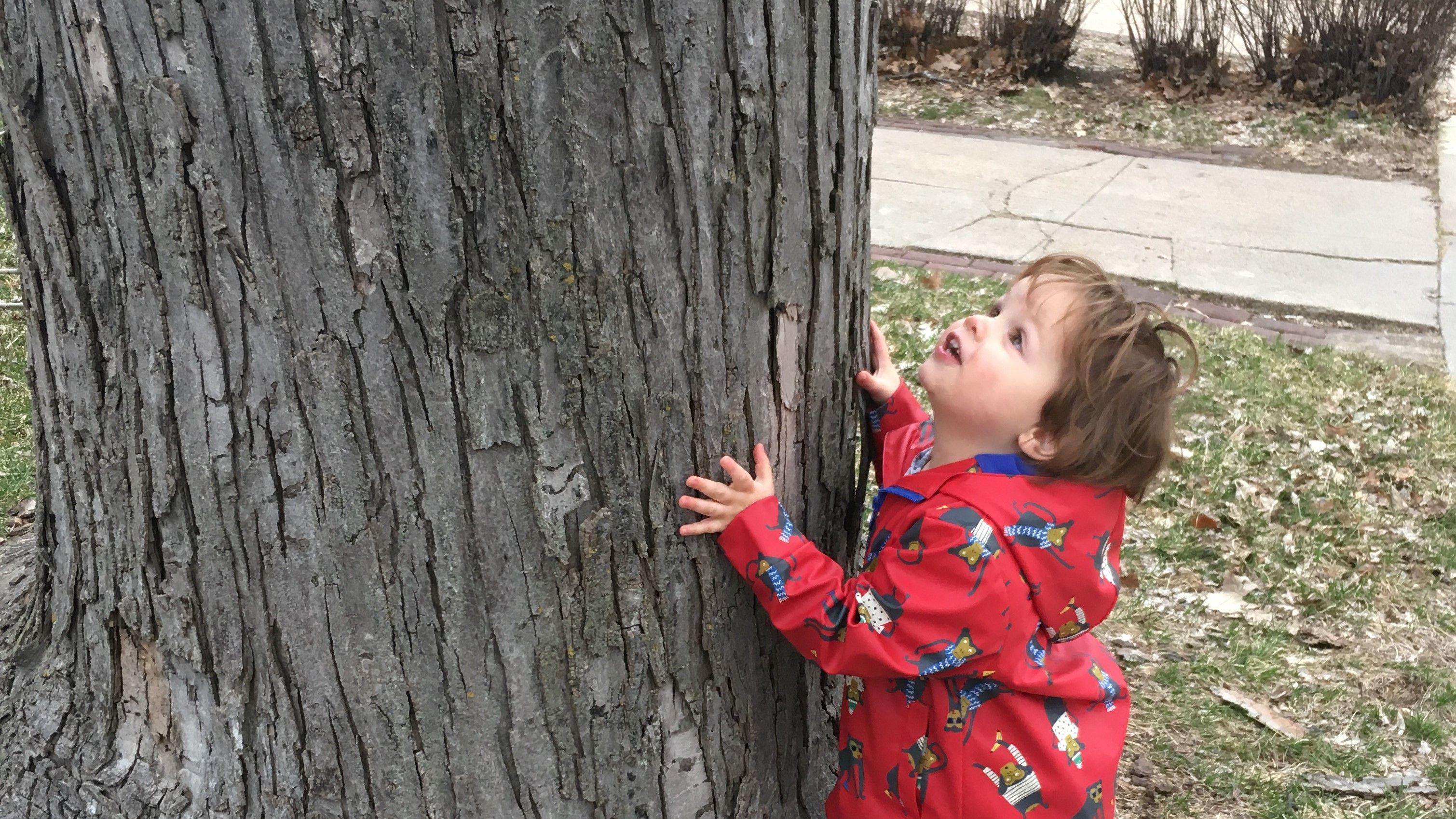 We would love to see where this lesson led you! Share your photos and videos with us by tagging #natureinyourneighborhood and #keepomahabeautiful.