OMAHA SPRING CLEANUP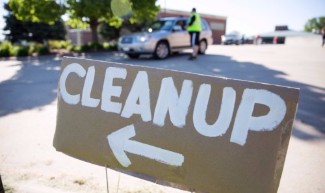 The Omaha Spring Cleanup (OSC) is hosted by the City of Omaha and participating neighborhood associations. The free event provides Omaha residents with the opportunity to recycle or dispose of large/bulky items that are not accepted through curbside trash and recycling services (such as old furniture, appliances, tires, and mattresses).
This year, the event will take place during five consecutive Saturdays:
April 27
May 4
May 11
May 18
May 25
Each Saturday, multiple neighborhoods in a specific section of the city will accept items for disposal and recycling between 9:00AM – 2:00PM.
If you need to recycle or dispose of bulky items before or after OSC, you are encouraged to utilize River City Recycling or Pheasant Pointe Landfill. Tires can be recycled at River City Recycling for a fee outside of OSC dates. 
If you are a Douglas/Sarpy County resident and you need to dispose of toxic materials (paint, oil, pesticides, and other chemicals), you can drop them off for free at the Under the Sink facility near 120th & I Streets.
Registration for Omaha Spring Cleanup is open until January 19th. To see if your neighborhood association is already registered, follow this link. Complete the registration form below to sign up:
Additional Details
Appliances, tires, and lead acid batteries are accepted as part of the Spring Cleanup, but they are considered "special regulated items" so they may have collection sites that differ from your neighborhood location. See the City of Omaha's Spring Cleanup website for more information.
Large tree limbs and brush are not collected at your specific neighborhood cleanup site, but you can obtain a voucher at your site, which allows you to drop off the yard waste material for free at River City Recycling (60th & Harrison) or the Douglas County Landfill (Highway 36 and 216th Street) on the same day as your neighborhood cleanup.
Prohibited Items
The following items are NOT ACCEPTED at the Spring Cleanup: rocks, concrete, and any items that can be collected via your curbside trash/recycling service. Toxic materials (paint, oil, pesticides, and other chemicals) are also NOT ACCEPTED and should be taken to the Under the Sink facility near 120th & I Streets.
---