For nearly 60 years, we have fostered environmental and community stewardship through education, service, and advocacy.
Our programmatic priorities are environmental education, sustainable beautification, and waste and pollution prevention.
Our programs help ensure Omaha is a clean, beautiful, and environmentally sustainable city.
Take a look.

We inspire and educate people to be stewards of the environment and our community.
Find out more.

We offer engaging volunteer activities that have a positive impact on Omaha and the environment.
Get involved.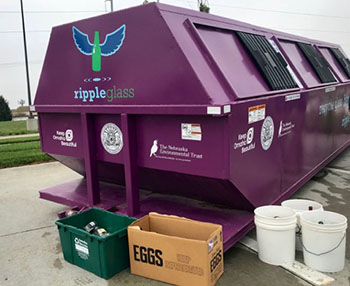 Glass Recycling
In order to expand the accessibility and convenience of glass recycling, Keep Omaha Beautiful and the City of Omaha added two new locations for glass recycling. Hy-Vee (180th and Pacific) and Fresh Thyme (150th and Maple) now have purple Ripple Glass bins in their parking lot, open 24-hours. 
Hy-Vee (1000 S 178th St.)
Fresh Thyme (14949 Evans Plaza)
Thank you to the Nebraska Environmental Trust and the Nebraska Recycling Council for supporting this initiative!