For nearly 60 years, we have fostered environmental and community stewardship through education, service, and advocacy.
Our programmatic priorities are environmental education, sustainable beautification, and waste and pollution prevention.
Our programs help ensure Omaha is a clean, beautiful, and environmentally sustainable city.
Take a look.

We inspire and educate people to be stewards of the environment and our community.
Find out more.

We offer engaging volunteer activities that have a positive impact on Omaha and the environment.
Get involved.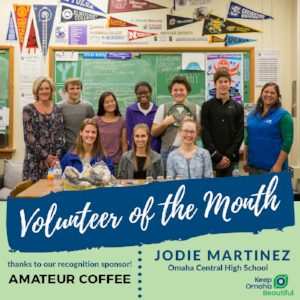 Volunteer of the Month: Jodie Martinez
We're happy to celebrate Jodie Martinez as our volunteer of the month during March! Jodie is the English Department Chair at Omaha Central High School and the sponsor for the school's Garden Club. Not only does she spread the value of environmental stewardship to her students, she has also recruited students to volunteer with us on many occasions. Some of the projects her Garden Club has participated in include environmental education activities, preparing for the Omaha Spring Cleanup Kickoff Meeting, and revitalizing our vacant lot at 3101 Florence Boulevard. Thanks for all of your support, Jodie! 
A big thank you to Amateur Coffee for sponsoring our Volunteer Recognition program!