For nearly 60 years, Keep Omaha Beautiful has been dedicated to litter reduction, community beautification, and education on recycling and environmental stewardship in the Omaha area.
Our programs help ensure Omaha is a clean, beautiful, and environmentally sustainable city.
Take a look.

We inspire and educate people to be stewards of the environment and our community.
Find out more.

We offer engaging volunteer activities that have a positive impact on Omaha and the environment.
Get involved.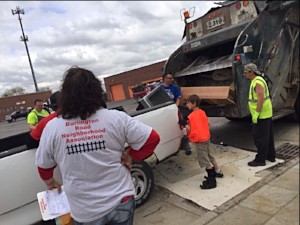 2017 Omaha Spring Cleanup Registration OPEN
The 2017 Omaha Spring Cleanup is a free event that runs from 9:00 a.m. to 2:00 p.m. on five consecutive Saturdays in the spring (April 22, April 29, May 6, May 13, and May 20). Registration for the 2017 Omaha Spring Cleanup is closed. Click here to see if your neighborhood or homeowners association is registered for the 2017 Omaha Spring Cleanup. Official dates and locations for your neighborhood's cleanup will be posted mid-January. 
The Omaha Spring Cleanup Kickoff meeting will be Tuesday, February 28, 2017 at 5:30 p.m. at the UNO Barbara Weitz Community Engagement Center [6400 South, University Drive Road North, Omaha, NE 68182]. All Omaha Spring Cleanup coordinators and neighborhood association leaders are encouraged to attend for official information, marketing resources, recycling and reclamation vendors, a best-practices Q&A, and more.