For nearly 60 years, we have fostered environmental and community stewardship through education, service, and advocacy.
Our programmatic priorities are environmental education, sustainable beautification, and waste and pollution prevention.
Our programs help ensure Omaha is a clean, beautiful, and environmentally sustainable city.
Take a look.

We inspire and educate people to be stewards of the environment and our community.
Find out more.

We offer engaging volunteer activities that have a positive impact on Omaha and the environment.
Get involved.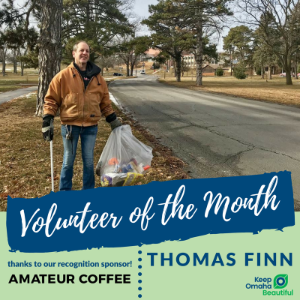 Volunteer of the Month: Thomas Finn
We're happy to celebrate Thomas Finn as our volunteer of the month during February! Thomas has volunteered with Keep Omaha Beautiful for more than a year, remaining our most consistent volunteer. He does lawncare work, so during his off season and down time, Thomas picks up litter to give back to his community. In the past year, Thomas has served more than 100 hours to make Omaha a more environmentally safe place for all of us. Thanks for all you do, Thomas! 
A big thank you to Amateur Coffee for sponsoring our Volunteer Recognition program!