For nearly 60 years, we have fostered environmental and community stewardship through education, service, and advocacy.
Our programmatic priorities are environmental education, sustainable beautification, and waste and pollution prevention.
Our programs help ensure Omaha is a clean, beautiful, and environmentally sustainable city.
Take a look.

We inspire and educate people to be stewards of the environment and our community.
Find out more.

We offer engaging volunteer activities that have a positive impact on Omaha and the environment.
Get involved.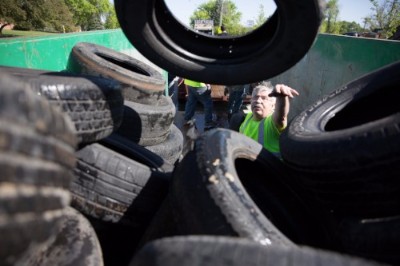 Tire Recycling
Tires can be a costly and inconvenient item for Omaha citizens to dispose, leaving many tires improperly dumped. This event allows citizens to recycle their tires for free, minimizing illegal dumping in our city.
The next free tire collection event is scheduled for Saturday, October 21 from 8am to 3pm at Levi Carter Park. The event will be held in the boat ramp parking lot at Levi Carter Park (near the corner of East Carter Boulevard and North 12th Street East). This event is for Douglas County residents only, businesses are NOT permitted to utilize this resource.