Hefty® EnergyBag® Program
The Hefty® EnergyBag® is a program designed to recover non-recyclable plastics (plastics which cannot currently be mechanically recycled).
The Hefty® EnergyBag® program's goal is to achieve positive long-term environmental and economic advantages, including alternative energy resources and fewer tons of plastics ending up in landfills. The Hefty® EnergyBag® initiative launched in Omaha, Nebraska in September 2016, and has now expanded to other cities across the country.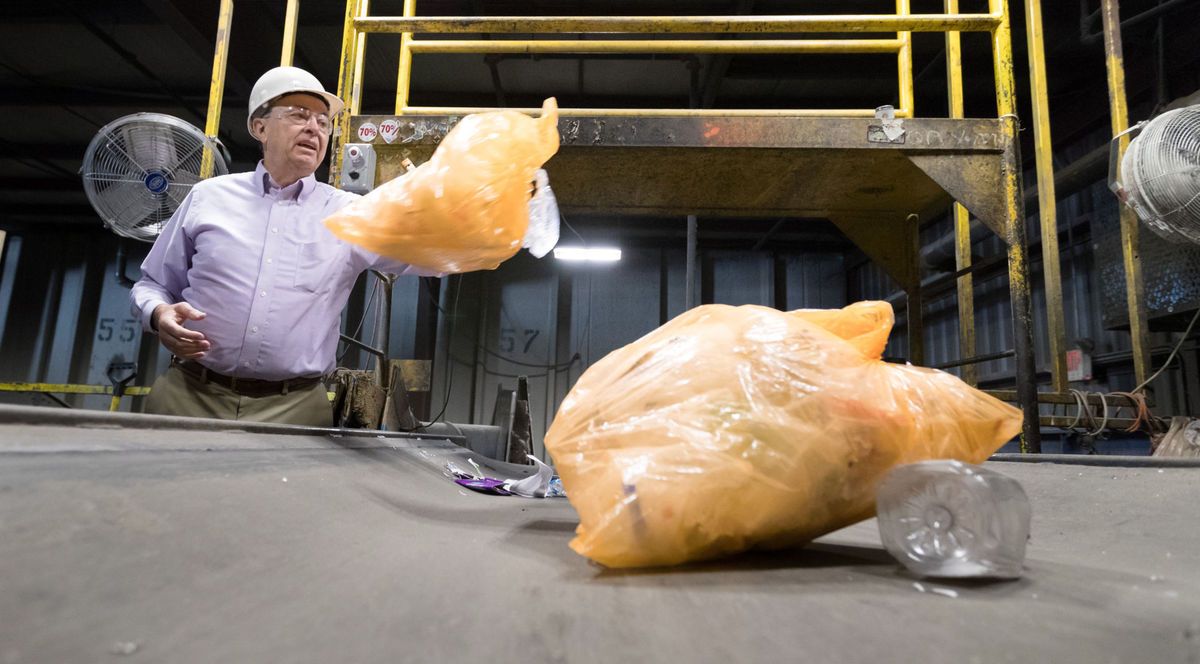 How can I participate in the Hefty® EnergyBag® program?
Omaha residents can participate by placing their non-recyclable, soft/flexible plastics in bright orange Hefty® EnergyBags®.
Once the orange bags are full of material and tied shut, residents can place the bags in their curbside green-lid recycling carts or take the bags to one of the City's recycling drop-off sites. Examples of non-recyclable plastics that are accepted by the Hefty® EnergyBag® program include candy wrappers, potato chip bags, toothpaste tubes, and shredded cheese bags. For a more comprehensive list, please see the noted section below.
Where can I get the orange Hefty® EnergyBags®? 
You can buy them at the following participating local retailers, located in the trash bag aisle:
HyVee
Family Fare
Bakers
Menards
Target
The Home Depot
What happens to the Hefty® EnergyBags® after they are collected?
After your local waste hauler picks up your tied orange bags along with your regular curbside recycling, the orange bags are then sent to Firstar Fiber Corporation where they are separated, baled, and sent to an energy recovery facility, where plastics are converted into other energy sources.
Firstar Fiber Corporation states that initially when the Hefty® EnergyBag® program piloted in Omaha, a small quantity of material was sent to a cement kiln in Kansas City where it was used as a coal replacement, as this option burns hotter and cleaner than coal. However, this process was only considered a secondary market. The primary end market of this material now goes to pyrolysis facilities around the country.
Pyrolysis is a thermochemical treatment in which plastic material is exposed to high temperatures in the absence of oxygen, and goes through chemical and physical separation into different molecules. This process converts the plastic material into new products like transportation fuels, naphtha, and wax.
According to Firstar Fiber Corporation, material from the Hefty® EnergyBag® has also been used to make other products such as plastic lumbers like fence posts, railroad ties, and ceiling board.
---
Which plastic items CAN I place in the orange Hefty® EnergyBags® bags? 
Please note that you should not place recyclable plastic items in the orange bags. It is a better environmental option to recycle materials that can be mechanically recycled. All "non-recyclable" soft/flexible plastic items can be placed in the orange bags, this includes, but is not limited to:
Snack bags and candy wrappers
Plastic packaging and wrapping for meat and deli products
Toothpaste tubes
Plastic utensils
Polystyrene (styrofoam) cups, bowls, and take-out containers
Beverage pouches (Capri Sun squeezable containers)
Salad, fruit, and vegetable bags
Condiment packets
Plastic pet food bags
Single-serve coffee pods (without the coffee grounds)
Disposable razors (without the blades)
Plastic straws and stirrers
Foam packing material (packaging peanuts)
Which items should NOT be placed in the orange Hefty® EnergyBags® bags?
Remember, the Hefty® EnergyBag® program does not replace your current curbside recycling program; it is a program that converts hard to recycle plastics into energy. Non-plastic items should NOT be placed in the orange bags, such as food waste, paper, glass, and metals. A good rule of thumb is that if it is a "rigid or hard" plastic, it can be recycled and should NOT go in an orange bag. Click here for the City of Omaha's Wasteline website, which notes items that can be recycled locally. 
DO NOT put the following items in your orange bags:
Aluminum & steel cans
Water & soda bottles
Paper & cardboard
Glass
Food & other packaging contents
Liquids of any kind
Medical plastic products
Hazardous waste
Hoses, tubes or rope
Plastic retail/grocery bags, newspaper bags, bread bags, ziplock bags, bubble wrap & air pillows, wrapping on cases of water, paper towels, napkins, disposable cups, bathroom tissue, and plastic cereal box liners should not be put in the Hefty® EnergyBag®, because they can be recycled at stores participating in the Wrap Recycling Action Program (WRAP).
---
What is Keep Omaha Beautiful's approach to waste/materials management?
Keep Omaha Beautiful recommends following the U.S. Environmental Protection Agency's non-hazardous materials and waste management hierarchy. The EPA's waste management hierarchy places emphasis on reducing, reusing, and recycling (in that order) as key to sustainable materials management. If a material cannot be reused or recycled, energy recovery can be considered, followed by treatment and/or disposal in the landfill.
Does Keep Omaha Beautiful recommend the Hefty® EnergyBag® program?
Keep Omaha Beautiful shares the perspective of many other local experts and "cautiously" supports the Hefty® EnergyBag® program based on careful analysis and the potential for the program to effectively transition from an energy recovery process to a chemical recycling endeavor (which is a better environmental option).
---
Who are the sponsors of the Hefty® EnergyBag® program?
Additional Resouces: