Volunteers
Volunteers are the lifeblood of our organization, carrying out our mission to foster environmental and community stewardship throughout Omaha each day. We work with more than 6,000 volunteers a year, ranging in ages, abilities, passions, backgrounds, and motivations. If you'd like to join our movement of dedicated volunteers serving the community and environment around them, visit our Get Involved page.
---
Volunteer of the Month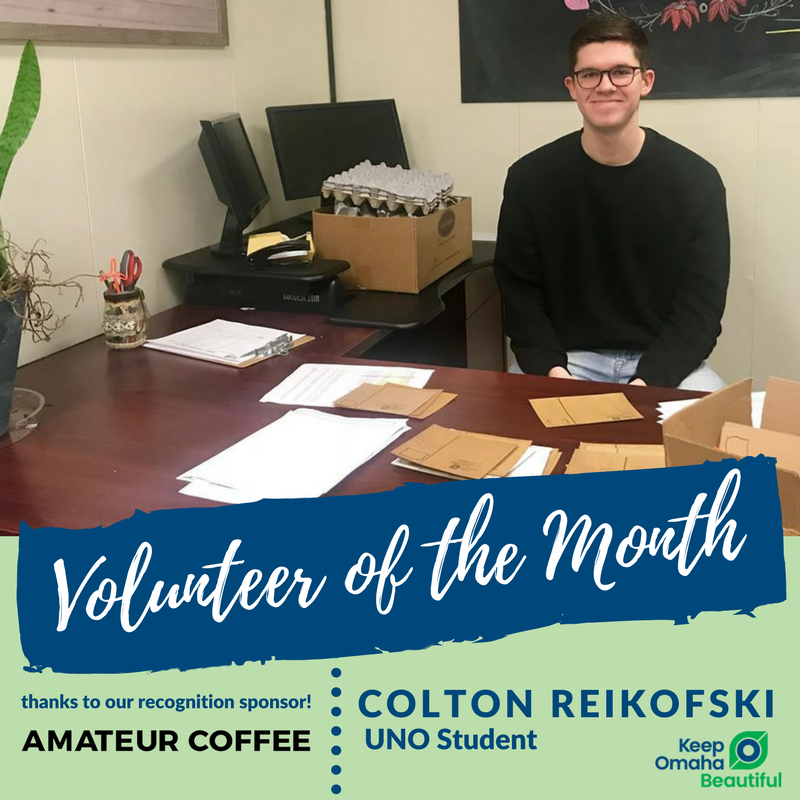 Volunteer of the Month: Colton Reikofski
This April, we're honoring Colton Reikofski as our volunteer of the month! Colton is a junior at the University of Nebraska at Omaha studying environmental science. He volunteers in our office every week completing important behind-the-scenes work that help keep our programs running. The future of the environment is bright with smart and motivated individuals like him entering the field soon. Thanks for all of your work, Colton!
A big thank you to Amateur Coffee for sponsoring our Volunteer Recognition program!
---
Past Volunteers of the Month
3.2018 - Jodie Martinez

We're happy to celebrate Jodie Martinez (pictured left) as our volunteer of the month! Jodie is the English Department Chair at Omaha Central High School and sponsor of the school's Garden Club. Not only does she spread the value of environmental stewardship to her students, she has also recruited students to volunteer with us on several projects over the past year. Thanks for all of your support, Jodie!

2.2018 - Thomas Finn

Thomas has volunteered with Keep Omaha Beautiful for more than a year, remaining our most consistent volunteer. He does lawncare work, so during his off season and down time, Thomas picks up litter to give back to his community. In the past year, Thomas has served more than 100 hours to make Omaha a more environmentally safe place for all of us.