ENVIRONMENTAL EDUCATION & COMMUNITY OUTREACH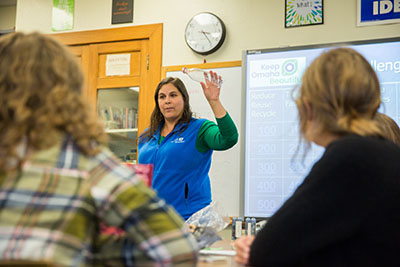 We believe that environmental education is an essential part of connecting people to the natural world. Our goals are to facilitate learning that is interactive and provide information that equips people with practical ways to engage in our community and care for the world around us.
As part of our commitment to educating people about issues connected to environmental stewardship, we conduct interactive activities and presentations at no charge to schools and community groups on topics such as (but not limited to) the following:
Green Heroes - Learning from Nature's Recyclers (waste reduction, composting, recycling, and litter prevention)

Green Heroes - Daily Environmental Stewardship

Water Pollution Prevention (stormwater management and water quality)

Waste assessment and recycling planning for schools/community organizations

Emerald Ash Borer Beetle and other invasive pests
Interested in bringing environmental education to your school, work, or organization? Call 402-546-3610 or email Hannah.Rennard-Ganley@cityofomaha.org for more information.
Our educational activities and presentations are designed to integrate with an organization/teacher's current curriculum or introduce a new topic. All our presentations are aligned to Nebraska Academic Content Standards. They are adapted to the age of the group and can be tailored to various subjects such as art, literature, math, and the social or physical sciences.
For interested groups, we also provide opportunities for students and citizens to volunteer and/or participate in service-learning style projects that extend the learning beyond the classroom/presentation setting, such as (but not limited to):
Groups remove litter and recyclable items from selected areas and discuss the importance of keeping our ecosystems clean and healthy. Cleanup events also provide opportunities to analyze the waste collected and discuss questions connected to materials management. 

Groups help remove debris from storm inlets in a designated neighborhood and place "no dumping" discs on the storm drains. Information on water pollution prevention and the importance of managing stormwater are tied into the labeling events.

Recycling Enhancements & Tracking

Groups interested in starting, increasing, and/or tracking recycling and waste reduction efforts can consult with us and receive literature and resources to support sustainability in their schools or small organizations.
Interested in additional resources connected to environmental education? Check out our RESOURCES section.